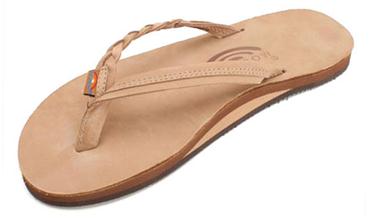 Rainbow Ladies' Flirty Braidy Single Layer Flip Flop in Sierra Brown
Rainbow Sandals
The Flirty Braidy has been the hottest addition to the Rainbow product line – the ladies absolutely loved it and it's here for the Long Ride.....


• Single Layer Arch Support
• Premier Nubuck Leather
• Braided Outer Strap
• Stitched Trim Inside Strap
• Wrapped Leather Toe Piece
• Bonded Nylon Thread
• Double Stitched
• Rainbow Logo Embossed Topsole
• Original Rainbow Woven Label

The Flirty Braidy is our single layer midsole with arch support, which sits on a non-slip Rainbow bottom, with a Twist!

The premier leather top is made from the highest quality nubuck leather, and is embossed with our Rainbow logo.

The narrow strap has an asymmetrical design featuring a braid on the outside straps and top stitched leather trim on the inside straps. The toe piece is our new V style construction and is wrapped with soft leather for comfort. The right sandal proudly displays the Original Rainbow woven label.

The straps are double stitched using bonded nylon thread for durability. The non-slip Rainbow bottom finishes the new addition.
Add to wishlist
Returns Policy
You may return most new unworn items within 30 days of delivery for a full refund. Any shipping charges paid at the time of order will not be refunded unless the item was received defective or an incorrect item was shipped. The refund will be made to the original form of payment. If the original form of payment is no longer valid a store credit will be issued.
Shipping
We can ship to any address in the United States. Orders generally ship same day if they are received prior to 3pm EST. Orders received on weekends and holidays will ship the following business day.
When you place an order you will receive an order confirmation via email followed by an automated shipping confirmation email which will include tracking information. Shipping confirmation emails will arrive 1-2 business days following your order.